Your Kittanning Wellness Products
Omega Sufficiency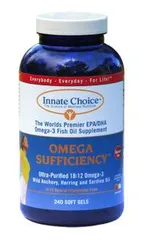 Omega Sufficiency™ is the purest, most natural fish oil available with natural EPA:DHA ratios and NO Artificial Chemical Concentration. Because of this Omega Sufficiency™ is aligned with the human genetic requirements for Omega 3 consumption and thus provides the maximal health and prevention benefits.
Omega Sufficiency™ is the world's premier EPA/DHA omega 3 fish oil. Each teaspoon or 4 capsules provides 720-825 mg of EPA and 480-550 mg of DHA omega 3 essential fatty acids which have been scientifically shown to be a crucial requirement for health and important in the prevention of illnesses such as heart disease, arthritis, ADD, depression, stroke, cancer, diabetes, high blood pressure, obesity, osteoporosis, Crohn's disease, ulcerative colitis, eczema, learning and cognitive development problems, and Alzheimer's.
---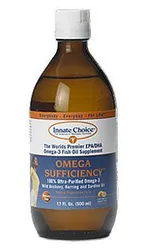 Omega Sufficiency™ is extracted in a licensed pharmaceutical grade facility from cold water anchovies, herring and sardines that are the purest source of omega 3 fish oil. Our oil is purified in a non-chemical molecular distillation process that removes all trace amounts of heavy metals, PCBs, organochlorides, and organophosphate pesticides resulting in the safest, purest source of EPA/DHA fish oil possible. As the oil is purified it is immediately infused with our natural, proprietary antioxidant blend consisting of rosemary extract, ascorbyl palmitate and natural mixed tocopherols. This process ensures the greatest oxidation protection possible. There simply is not a better, purer source of EPA/DHA omega 3 fatty acids in the world as our third party testing results indicate.
Our extraction process keeps the fish oil in its most natural form possible, this is crucial because human beings are genetically designed to ingest, digest, and absorb EPA and DHA essential fatty acids in the form they are found in nature, not in any concentrated form produced by chemical processing. If science and experience has taught us anything it is that we cannot improve upon nature.
Omega Sufficiency™ is flavored with 100% natural strawberry/lime or lemon extract - it actually tastes good! Because of the high quality and purity of our oil there is no fishy taste, no fishy smell, and no fishy aftertaste. Even kids like it! For those who do not like the consistency of the oil we recommend adding the oil to juice, a smoothie, or to salad dressings or other food.
---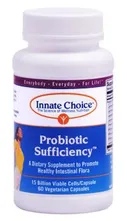 Probiotic Sufficiency
Genetically congruent probiotic formula
30 servings - 60 caps/bottle - 15 billion/capsule
For healthy intestinal and immune systems
100% vegetarian - dairy/wheat free

IMPORTANT INFORMATION ABOUT STARTING PROBIOTICS!!
It is not uncommon to experience what is referred to as excessive drainage syndrome when ridding the intestine of pathogenic bacteria and yeast and re-establishing normal flora. When the unwanted bacteria and yeast begin to die off and be cleansed from the intestine toxins can be released which can sometimes lead to headaches, diarrhea, gas, bloating, or constipation.
This is really a positive sign that the intestine is being cleansed of these toxin releasing and illness-promoting bacteria and fungi but it can be uncomfortable for a few days.
To minimize this excessive drainage syndrome we recommend introducing Probiotic Sufficiency® slowly, perhaps one capsule every two days for the first week, then one capsule per day for the second week and then on to the regular two capsules per day thereafter
---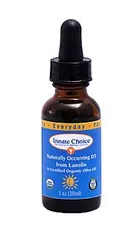 D Sufficiency™
Delivered in 100% CERTIFIED ORGANIC OLIVE OIL!
Naturally Occurring (D3) from lanolin 500iu/drop (600 Drops/Bottle)

Essential for All Ages.

Easy to use dropper included.

World's Premier Vitamin D supplement

Vitamin D newsletter Vitamin D - What Everyone Needs to Know
---
Denneroll Home Traction

Introduction to the Denneroll Home Traction
In the interest of spinal health care that continues outside the chiropractic office, the Denneroll is a neck orthotic that can provide an effective soft tissue stretch through the entire neck area.
The Denneroll creates a passive stretch in the direction of your normal cervical curve which can improve movement, relieve muscle tension, and assist in the correction of reduced cervical curvature. The combined effectiveness and comfort of the Denneroll is second to none in neck orthotics. The effectiveness of the Denneroll allows you to target areas throughout the whole neck area and this allows you, to target areas where you need it most!
Light and easy to travel, the Denneroll can be used in your home, the office, or anywhere there's flat ground with each stretching session taking only 5 - 20 minutes.