Kittanning Patient Testimonials
We value our patients' experience at Mills Chiropractic. If you are currently a chiropractic patient, please feel free to complete the following Client Experience Questionnaire. The Questionnaire is in Adobe Acrobat format, and requires the free Acrobat Reader to view.
Download & Print Questionnaire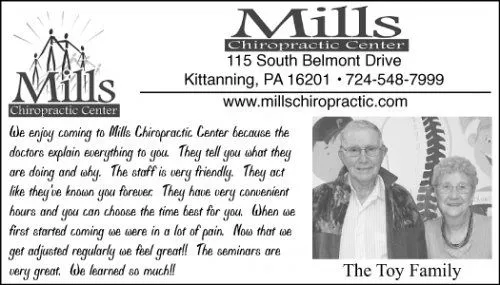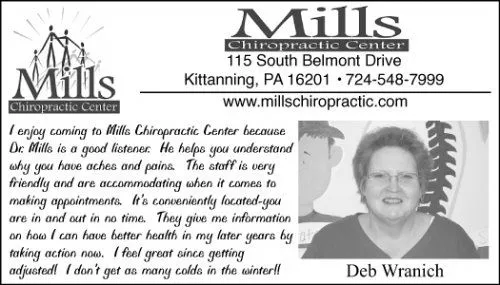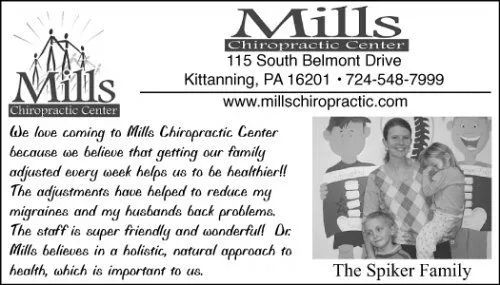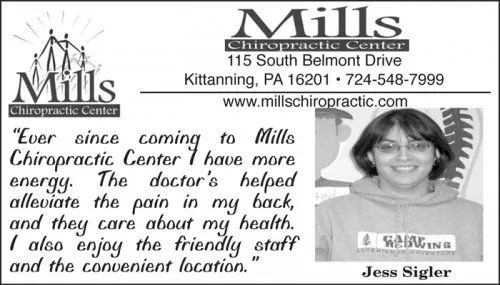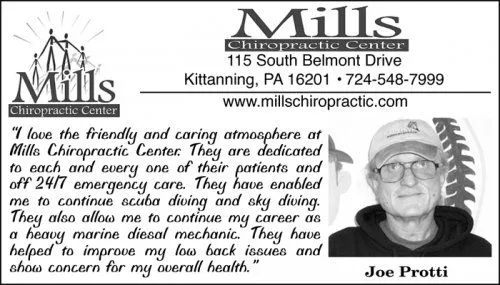 Marge Stone's Chiropractic Story
I had severe sharp pain in my upper left arm whenever I moved it. It was probably caused by a pinched nerve in my neck. I declined a surgeon's offer to operate. This had been going on for about 2 years. Sometimes it was worse than others. A friend had been urging me to try chiropractic because it had helped her back. I really didn't think it would help me but finally I decided it was worth a try, because the pain was getting into a very bad phase. On my first visit I learned that all my aches and pains were not just due to aging. Dr. Mills felt it was pinched nerves and inflamed muscles around my spine. He showed me the subluxation of my spine on the x-rays. He said I should see him 3 times a week for the first six weeks. My condition interfered with everything---sometimes it hurt too much to make the bed. Now I can use my physical fitness training apparatus. A side benefit has been the clearing up of my sinus headaches so I can play the recorder again. I can now park the car without agony. My arm has improved at least 80% and it began to improve in about my second week of treatment. After a few weeks I noticed I was less stiff and achy all over my body and I did not stiffen up even after sitting in a car for a long time. I don't know if everyone can be helped, but I believe that most can. It is foolish not to give it a try, because it can't hurt and there is an excellent chance of decreased pain and increased mobility. Just do it!!!

Keith Szalankiewicz's Chiropractic Story
Before I came to Dr. mills, I had severe headaches and hip pain. The headache started about 4 years prior and I was given various drugs to alleviate the pain, none of them worked very well. "I was to young to feel this old!" I had a friend who worked for another chiropractor, quite some distance from this area. She had convinced me to try it, I did, and I started to notice improvement. However, as good as he was, the distance became a problem, and he treated everything as a business, not like the "Family" atmosphere at Dr. Mills. I am an avid outdoorsman and prior to Dr. Mills, climbing hills was rough. My hip would "pop" out and make the experience less enjoyable, at times a bit scary. My headaches went from 4 times a week to 2 times a month! My hip has not hurt in, well, I don't remember! As for enjoying the outdoors, you better believe it!!! You are a fool if you don't go to Mills chiropractic center !! If your not sure then just talk with Dr. Mills, he is an excellent teacher.

Kay Szymanski's Chiropractic Story
I had pain in my shoulders and arms for about one year before my family doctor made a diagnosis of frozen shoulders. After nine weeks of very painful physical therapy, I had slight improvement which disappeared after therapy was completed. I tried to continue at home with no success. I was becoming discouraged and depressed because of the constant pain. After realizing therapy had not worked and the pain was making daily routines such as driving, lifting, and sleeping uncomfortable, I decided some other type of treatment was needed and I saw Dr. Mills flyer in the paper. Dr. Mills explained where my arthritis and nerve flow problem is located and what he felt would be my plan of treatment. After following his recommendation since May, I have 95% less pain and 90% more mobility. Morning stiffness is limited and by days' end I can now realize simple tasks such as getting up from a chair, getting out of the car or reaching items on a shelf without stiffness or pain. Before treatment a long walk or playing with my grandchildren were difficult due to my arm, shoulder and leg stiffness and pain. I now have more energy and mobility to enjoy these pleasures. Since starting treatment in May, I notice no pain in my arms while driving and more mobility in my legs. My shoulders are starting to relax and permit movements I had problems with before. I have less general body aches. In the past six months I have greatly improved with the hope that continued care will further encourage my body to heal. Constant pain can make one tired, stressed and irritable. I'm pleased not to have those feelings anymore. I also don't need any medications to alleviate my pain. Discover a painless treatment that will eliminate your discomfort as well as deliver overall wellness.

Barbara Wise's Chiropractic Story
At first the pain seemed like a mild strain on the left leg and low back. I continued my activities as usual. Then the pain increased after more daily routine. I got to the point of not being able to function at all. I turned to some pain medication and knew I didn't want to do this indefinitely. I got a MRI of the lumbar spine to determine the source of my pain. Walking was difficult, sitting wasn't easy, lying down sometimes helped if I could find a comfortable position, but not for long periods of time, even putting on my shoes or my jeans was hard with crying in pain. I suffered severely for 4-5 months. With a professional suggestion of surgery to help this condition to alleviate some or all of my pain, I wasn't ready to commit to surgery at this early date. I've been under chiropractic care in the past. I was referred to this particular office by someone that has symptoms similar to my own. With the amount of pain I had, I really wondered if a different chiropractor could help. I had my own x-rays and MRI films. These were looked over by the chiropractor. He took additional precise x-rays to determine the extent of the problem. Initial questions and my answers were done on a computer screen and those were compiled and saved. Range of motion was measured and noted for further use. A spinal exam was done by the chiropractor, information was noted for further use. A booklet was compiled with chiropractic findings on my condition and was explained in full and a copy given to me. The recommendation was to start initial intensive care of three times a week being seen for four weeks. Then down to two times a week and now one time a week. This time period was determined on how well I responded to treatment. At this time, there is no pain. The severity of pain I had did interfere with daily activities and my hobbies. I limited a lot of these activities and some I could not do because of the sever pain I experienced. I have now been able to enjoy my hobbies to the fullest extent due to intensive chiropractic care. The extent of my improvement at this time is 95%. I am still under chiropractic care to keep this at a high percent of wellness and not at the extreme pain level that I have experienced. My words of encouragement to others. Take care of the body you have, you only get one in a lifetime. Injuries do occur and sometimes can't be controlled. You can control wise choices, I've made a wise choice to choose chiropractic care. I am now restored to a healthier level of life. So give chiropractic a try. Nothing to lose but your pain. Better health, lots to gain.

Barb Yount's Chiropractic Story
I just wanted to feel better. I have a very stressful job. Lots of pressure. My neck would get stiff and wouldn't move very well. I wanted to get rid of the tension that would build up there and in my shoulders. I also had dislocated hips when I was born. So needless to say, I have trouble with my hips. I work in an office on the 3rd floor with no elevator, so there are 30 some steps to climb everyday. Someone with hip problems can tell you this is no fun. I saw Dr. Mills advertisement in the paper. After the x-rays and examination, Dr. Mills said he could help me. My hobbies are crafts and surfing the net. Being adjusted every week has helped considerably. I have been going to Dr. Mills for a year and 3 months now. With my job I just can't wait to see him so I can get my "power turned on", to face another week. He has helped a lot. If you work in a high pressure job and you have pain in your neck, shoulders, or just about anywhere, then call Mills Chiropractic Center for an appointment

Mary Jane Luke's Chiropractic Story
The location of my pain was in my hips, thigh and knee. I had discomfort for several years. I had been told my hip was out. Treatment lasted 1 to 2 weeks and then it was back. I had difficulty in walking without pain in thigh. I read an ad in the newspaper. I had been thinking of changing chiropractors at that time. Since I knew Mike's family I chose to come to his office. Dr. Mike was very thorough. Never have I had such as extensive original exam etc, with a consultation the following day with explanation of condition. Basically my pelvis was tilted and two vertebrae misaligned. I also had a problem with my neck. I was not able to do much walking do to pain in my thigh and knee. My neck moves much freer. My right leg does feel some better. After setting a great deal 4 weekends ago the condition re-occurred but after 2 adjustments it is improving. Absolutely try a chiropractor; especially Dr. Mills!

Robin Martin's Your Chiropractic Story
I initially had difficulty sleeping, my right arm was numb as was the top of my head. I couldn't figure out what was wrong. A friend of mine was a patient of Dr. Mills. Then I met Dr. Mills at a church meeting. I liked his personality. He presented himself to the group as a well-educated and caring professional. I was familiar with chiropractic and its benefits. I knew once we started the recommended adjustments that it would just be a matter of time before my numbness and sleepless nights would disappear. My hobbies include cooking, gardening, and boating. Yes, I had trouble getting up and down while working on my flower beds. I now sleep all night and my numbness is gone. It took about two weeks. Don't wait!! You don't know what you are missing!!!

Terry Mcginnis' Chiropractic Story
I had pain in my lower back, legs, and spine since 1993 to 2001. I am still in a little pain. I went to the Mills Chiropractic Center of my own will. Dr. Mills made me feel better. Dr. Mills took x-rays of my spine and lower back. My hobbies include playing pool and bingo. Due to my back pain, I cannot sit for a long time, I cannot swim for a long time, and I can't hunt anymore. After 6 weeks of chiropractic, I can swim now. I would tell others that Mills Chiropractic Center is open for them. Dr. Mills is a good doctor.

Carol Porter's Chiropractic Story
I had extreme pain in my neck and lower back area. I had restricted movement. I also had knee problems - I was unable to walk long distances. I decided to try chiropractic because my granddaughter had such success with it. Dr. Mills examined me and took x-rays. He took the time to show me why I had a problem and what he could do to help me. I was impressed with the time he took with me. I quilt, garden, and walk. My condition interfered with all of them. I now sew, garden and walk like I did 10 years ago. My pain is mainly gone. I sleep better and feel much better. Do not be afraid to try chiropractic. The difference will astound you.

Jim Roberts' Chiropractic Story
I was having a lot of pain in my neck. My hips and legs were quite a bother and I was not standing straight. Skeletonally, I was going down hill very fast. Plus I had a bladder problem. I kept looking at his (Dr. Mills) name at Mac's Health Club and felt in that situation the doctor might be able to help me. I thought that the combination of x-rays and pertinent medical history, laid the ground work for the right kind of therapy. I really like to walk which has stopped completely and I like to play golf. I feel my game has started to improve because my swing and stance have improved. Since starting with the adjustments, I am walking much easier. The range of motion in my neck is improving. I am feeling much better and have more confidence. I feel that it is very important to keep your spine aligned and strong. This can only be accomplished through chiropractic therapy.

Susan Hileman's Wellness Chiropractic Story
9/21/06
I spent over 6 years with severe migraine headaches, daily. I made continuous visits to the ER for treatment along with hospitalizations numerous times for days at a time. I was unable to work or really do anything. This was destroying my life and family. Because of the wellness program, migraines and vomiting have completely stopped for almost 2 years. One prescription alone was costing $70.00 a week, plus I have saved money on ER and hospital stay costs. I have more energy and I am able to go back to work, Thanks to the wellness program.

Ted Jablonski's Wellness Chiropractic Story
9/25/06
I've been going to Chiropractors ever since I injured by back in 1948, but with only temporary results. X-rays of my back were never taken until I started going to Dr. Mills. He took x-rays and explained the phases of degeneration and how adjustment would benefit. His adjustments gave me the needed pain relief that I desired. Wellness care has helped me personally, correcting the subluxated spine eliminated the pain to a great extent and explained how the two sets of nerves emanating between the vertebrae to and from the brain affect the various organs of the body; and correct the cause of pain in those organs with chiropractic and not surgery. I saved lots of wasted time and money by not going to doctors and obtaining prescription drugs (nor any over-the-counter drugs) because no drug or medicine can cure. They are synthetic and not natural. Drugs only treat symptoms, not the cause. Since receiving wellness care my well-being has greatly improved, mentally and physically. Without the pain associated with a subluxated spine, I have more energy and can think more clearly.

Allan King's Wellness Chiropractic Story
10/02/06
I had numbness in my arm, and had previously attended a wellness/health seminar with another patient. Because of the wellness care the numbness left and my lower back pain from a fall in the early 80's totally disappeared. Since receiving wellness care I haven't saved any as I abhor and avoided medical help over the years. I noticed that those seeking help thru standard medical, just keep taking pills and making more appointments. I can't differentiate whether I am more healthy or if I mentally just feel better. Either or both work for me!

Randy & Jackie Kruse's Wellness Chiropractic Story
9/22/2006
We primarily sought out Dr. Mills for chronic neck and lower back pain. I was taking 6 aspirin at 500 mg per night to sleep. Chiropractic adjustments eliminated the pain and the need for the OTC drugs. Wellness helps us to avoid usage of OTC drugs and/or scripts. Wellness care has helped my family, because now I sleep without aid of OTC drugs. My wife has less to no pain on a regular basis. Beginning discomfort is nipped in the bud. Since receiving wellness care we no longer have a use for OTC painkillers to sleep. The sleep is natural and we wake up more refreshed. By receiving wellness care our well-being has improved, for example,

Myself - sleep better - no chronic neck pain.

My wife - reduced back (lower) pain and more range of motion.

Above benefits lead to a healthier and happier lifestyle.

Pete Volner's Wellness Chiropractic Story
9/20/06
After about a year of treatment based on insurance requirements, I decided to try the wellness program. This program gave me the chance to choose a program of treatment that benefited me the most as to how I felt and what made me the most pain free. The wellness care has helped me overcome the restrictions that were placed on me by not having the freedom - pain free - of movements that I needed. Since receiving wellness care, I now can do more physical activities with less pain medication. My day-to-day feelings have improved and I find that I have the energy to go back, close to the level of activities that I had before.

Anita Windon's Wellness Chiropractic Story
9/25/06
My choice to go onto the wellness program was through my parents, who introduced me to Dr. Mills. Wellness care has helped me because now I am more relaxed. It is a good stress reliever for me. Since receiving wellness care I am more energetic.

Ruth Yount's Chiropractic Story
I fell head first against a wall. I had a bad neck, shoulder, back, and hips. I hurt so bad it was hard to walk. Dr. Mills took x-rays on the first visit. Then he started working on my back all the way down and then I sat on a stool while he adjusted my neck. I still was able to sew which is my hobby where I recycle jeans but not all of the time. Each visit I get better. It is almost back to normal but my neck is better than it has been for years. Thank you Dr. Mills!!

Larry Bordick's Chiropractic Story
I decided to try chiropractic because I had nagging headaches and a stiff neck. It seemed to be all the time. I had numbness down my arms and hands. I had sleepless nights and sometimes blurred vision. My low back was sore and my hips and legs were tired all the time. I had a lingering pain between my shoulders. I had this pain for almost 2 years. Then I decided to come and see Dr. Mills after a friend that is a patient had recommended him. When I first came to see Dr. Mills, I was really hurting bad. Dr. Mills went through all the x-rays and explained about what was going to be done. There was no fancy frills about anything. His physical therapist assistant also came into the therapy, and then between the two of them, they really got "my power turned on!" Some of my hobbies are hunting, fishing and working outdoors for a living. With my body being out of tune, I hesitated from doing all of the above with any eagerness or desire. I was hurting!!! Now it is a 100% turnaround. After 4-5 visits there was a very noticeable change in my mobility with my neck, arms and legs. With this my attitude has gotten much better about everything and my endurance for hunting and working is better than it has been for years. I sleep better and I'm not as big of a grouch as I was for years. My advice to anyone thinking about giving chiropractic a try, "Either get your power turned on or suffer till you die!!".

Sherry Farster's Chiropractic Story
I've been suffering with fibromyalgia for many years. You have some good days but mostly bad ones. I would ache all over (muscular) accompanied with migraines every day. I thought there would never be any hope for me because doctors claimed there was no cure---- I had to live with it.

Finally a woman at my church recommended I see a "new chiropractor" whom she was helped by and felt so much better. At first, I was hesitant because I had been seeing another chiropractor for years and I wasn't helped. So I felt how could anybody else be of help to me. I'm so glad I took her advice!

Dr. Mills was very thorough at my initial screening leaving no "stone unturned" and was a great listener to all my complaints. We then started the program he set up for me. I couldn't believe how fast I was finding great results with my body. My "fibro" attaches became less and less frequent and migraines have virtually disappeared.

I do a lot of volunteer work and I found there were days I couldn't get out of bed. I hurt so bad, therefore having to cancel my shifts of volunteering, which depressed me. Not that the pain is minimal, I'm able to keep my commitments!

Before I began treatment, My "light" was a sad 25 watts; after a few short months of "Dr. Mills" care, I can honestly say that the light turned up to "100 watts".

I fully support chiropractic care. We all want to remain healthy and have our bodies work for us not against us. Please keep the well in wellness.

God Bless you Dr. Mills you have healing hands and a great passion to keep people well and that makes you very special.

Sue Fauset's Chiropractic Story
I had pain in my lower back and my left leg for about 2 years. I also have very bad allergies in the spring for about 20 years. I also have had Type II diabetes for about 8 years.

I had been thinking of going to a chiropractor for a while for my back pain. Dr. Craig came to the Kittanning Lions Club and talked about chiropractic care. I had a very bad day with my back and leg and took it as a sign to try chiropractic.

Dr. Craig did a thorough examination, complete with x-rays. Dr. Craig and Dr. Mills both consulted on findings. They recommend I come in 3 days a week to start and gave me a sheet with exercises to do at home. I feel so much better.

After one week, I was really shocked at how much more energy I had and my allergies have stopped. After two weeks, I have no more pain in my lower back or left leg. I also reduced my AC13 level from 7.8 to 7.4 and I didn't change my diet, I just started chiropractic care.

I can't believe what a difference chiropractic care has made in my life. I just thought it was for back problems, but I found out it helps with a lot of health problems. Try it… you will like it!!!

Gayla Ford's Chiropractic Story
Before seeing Dr. Mills, I was having trouble going up and down the steps. My knees were swelling and at night I couldn't get comfortable due to the pain in my left hip. I was being told that I may need to have my knee drained. I decided there must be a better way and I called Dr. Mills because I knew him from attending our church. After a few adjustments, I was going up and down the steps without a problem. The swelling left my knees and I am sleeping comfortable all night. I am now able to get down on the floor and play with my granddaughter. What a blessing!!! I would highly recommend seeing a chiropractic doctor before having any surgery done. It has changed my life and no needles.

Dorothy Foreman's Chiropractic Story
I had pain in my left hip like I'd never had before. I thought it might be a pinched nerve. I hoped I could work it out if I kept moving. I was wrong. I didn't have medical insurance at that time and had lost faith in the medical doctors that I had gone to for other reasons. After about 3 months I thought I'd give chiropractic a try. I went to a chiropractor in Plumville. After 2 adjustments with no x-rays and no relief a relative recommended a different chiropractor in Indiana. He recommended I stop doing my routine until he got me straightened up. I couldn't do that so after 8 visits with no relief I stopped going. I do a lot of yard work, painting and other physical activities. For 16 months I lived on approximately 20 200mg of ibuprofen to take the edge off the pain. I knew I had to do something. I had given up on chiropractic by then too. I was depressed and felt like I was going to live on ibuprofen till it didn't help me anymore or caused me problems. I felt I wasn't far from living in a wheel chair and feeling worthless. Then I met Dr. Mills. I was skeptical but felt I had to try one more time. He confirmed the other chiropractor's x-rays and explained my pain was inflammation. He recommended ice instead of heat. It worked. After 4 adjustments I woke up one morning without pain. I haven't needed ibuprofen for months. I can do what I need to do every day without pain. It doesn't hurt to try. Sometimes you have to try more than one till you find the right one. People say I talk about Dr. Mills like he is a God. Well I guess I feel he worked miracles for me and I am eternally grateful. Going in for a painless adjustment is a very small price to pay to be able to stand upright and function normally. I do feel starting out with 3 visits a week gets faster results.

Brandi Beck's Wellness Chiropractic Story
10/27/06
The wellness plan was recommended by Dr. Mills. Since being on the wellness plan I feel much better. Maintaining your health is much better than waiting until problems arise to get care. Which means a lot less pain. Maintaining your health gives you a much better, happier, energetic, and productive life.

Beth Blews Wellness Chiropractic Story
10/17/06
After several visits to Dr. Mills for severe neck pain and constant migraines, the pain subsided and I have not had a migraine in 5 years. Besides other overall health benefits, if wellness care keeps me form migraines alone, I will continue of the rest of my life! Migraine headaches are a thing of the past. I have also been virtually cold and flue free since beginning wellness care. After several visits to doctors for migraines, pain killer prescriptions (which only mask the causes for pain, several rounds of therapy on my neck, x-rays, etc.), wellness care has not only been less expensive, but better for my overall health!! Wellness care is a weekly battery charge. Because your body is absent of prescription drugs full of side effects, and adjusted weekly so the nerves in your body are free of interference, one cannot help from feeling energized, positive and full of life! I was never a believer in chiropractic care, but thanks to Dr. Mills, he has not just adjusted me weekly for the last 5 years, but he has taught me very well about chiropractic so much so that I am continually researching any topics of wellness care on my own so that I may keep my health fine tuned!

Mike & Carol Davis's Wellness Chiropractic Story
9/22/2006
We were pleased with the treatments we had with Dr. Mills, and how he helped our backs and necks, that we wanted to go onto wellness to maintain our good health. Wellness has made us more energetic and feeling great all over. We can tell the difference in our bodies if we miss a week. We need that "lightbulb" to keep us "burning". We definitely have saved money on doctor visits. By going onto wellness, our aligned bodies seem to be able to fight off little illnesses like colds, sore throats, and the flu. I (Carol) use to always get a cold every fall and spring. Now I don't. Mike says he just feels better. Our overall well-being has improved. We are both more alert, have more energy, and are more active. We use to have to drag ourselves to the gym to workout. Now it is automatic. I (Carol) see other people my age that can hardly move. I still run up and down my steps at home instead of walking. We feel great!!!!

Sherry Farster's Wellness Chiropractic Story
9/21/06
I came into the center with severe migraines. I was fighting the depression of fibromyalgia because I was in constant muscle pain. At first, the adjustments took a while, of course, (Rome wasn't built in a day), however, as time went on I felt myself feeling better and brighter. I saved much on doctors visits, for I have tried that avenue and they couldn't find any recourse, except I had to live with pain versus pain killers, which I declined as a resource. The maintenance program has kept and will keep my body on an even keel and that keeps me going!!

Ruth Hileman's Wellness Chiropractic Story
9/19/06
I was recommended by friends. My daughter Susan needed relief from headaches. I needed relief for my back. The wellness care has helped Susan beyond measure with her headaches and it has helped my back tremendously. I don't take medication for my back pain. Susan has not had a severe attack of migraines - resulting in no more hospital trips. I do have more energy and I am able to do more due to less pain.

Lula Gallo's Chiropractic Story
My right arm, hand, and fingers were numb and also in much pain. I didn't get much sleep, as the pain would wake me. My daughter bought me a brace for my wrist and hand, thinking perhaps it was carpal tunnel. The first I heard of Dr. Mills was in September 2003. I decided to go for an initial visit. I had gotten x-rays and consultation that day and when I went home, I thought I'd rather go to him then to a medical doctor. Best choice I've ever made in my life! Oh, the brace didn't work. I was also hurting in both of my hips. There were times I couldn't pick up a piece of paper off the floor. As for any doubts---no, there wasn't any!! Dr. Mills explained in full detail about the x-rays and I decided then and there that I had enough (a lot) of faith that he could help me. You could tell too, that he was sincere in his knowledge that he could help. I am a minister and go from door to door carrying a heavy case with literature in it. I know with my problems, I'll never be 100%, but I sure feel like it. In fact, I even feel younger and I can do things that I couldn't do before. Go to the chiropractor. Listen to what he has to say and by all means do what he suggests before going to a medical doctor.

P.S. I see a lot of sick people around me and I've been healthier this winter than I've been for years!!!!!!!!

Ed Harbison's Chiropractic Story
The pain in my head was unbearable (left side of my head). I've had the pain off and on for 26 years. Dr. Mills has me living almost pain free. A female friend of mine goes to a different chiropractor and asked me if I would at least try one. This is the best relief I've had in years. I didn't realize until I saw the x-rays how far out of alignment I was. He has explained everything very well to me. I fish and hunt a lot. My pain has kept me from doing that a lot. Now I'm back about 75% in my hobbies. I have improved 75%. It didn't take long. Please, for your own good, see Dr. Mills. He cares and helps people.

Kris Kircheis' Chiropractic Story
I started with meningitis then it turned into encephalitis. I had headaches everyday. The doctors said I had migraines, cluster and tension headaches daily. I decided to go to the chiropractor, after I decided I wanted my life back. My original chiropractic visit was great. They x-rayed me and found that I had subluxation. I enjoy reading, computers, gardening and cooking. I could barely do any of these activities for two years. I now enjoy doing all of these activities. Things started clearing up right away. I slowly got off all the medication that was making my brain a fog. It only took about 2 months to get me to where I am today. I feel that chiropractic care saved my life. I would still be where I was two months ago, if I didn't decide to change my life - - - for the better.

Jackie Kruse's Chiropractic Story
I had extreme lower back pain due to 2 pinched nerves. I had it for over 2 weeks. I tried the family doctor, emergency room, pain killers, anti-inflammatories, nothing helped!! A good friend recommended your office. I was very hesitant at first but nothing else was working. I figured I had nothing to loose and hopefully better health to gain. Dr. Mills saw me right away. He took x-rays, did a physical exam. Explained in detail how he does things and what he expected from me. I was impressed that he would not adjust me until he reviewed all of my test results. He scheduled my first adjustment for the very next day, so I wouldn't have to wait. He found 2 pinched nerves in my lower back and phase I subluxation throughout. My hobbies are lawn care, gardening, showing cars and riding motorcycles. Just walking was very difficult due to the extreme pain. After only one adjustment, I was moving much better. I have continued with my care following the doctor's instruction. I am totally pain free. I didn't realize how bad I felt until I started feeling great!!! Thanks to Dr. Mills. I have improved 100%. I have been a patient for about 4 months, but achieved immediate improvement. Get in to see Dr. Mills. He is very thorough, takes his job seriously, and does excellent work. His office has a very friendly, upbeat atmosphere. It's a great place to go and they are always running on time!!! It's just a great place to go! I would recommend Dr. Mills to everyone. My dad is nearing retirement and has suffered with a bad back for years. I got him to go to Dr. Mills and my dad is feeling much better, and looking forward to his retirement. He is moving better now than he has in years. Thanks to Dr. Mills!!!

Randy Kruse's Chiropractic Story
When I started seeing Dr. Mills, I had pain (chronic) in my neck. The pain radiated from the base to the top of my head. I had been in pain for approximately 1½ years. I had seen another chiropractor, but to no avail. I had previous experience with chiropractic, however, the travel distance was significant. Simply put, Dr. Mills eliminated the problem. I now am able to sleep without 3 - 6 Tylenol per night. My hobbies include going to auto shows and showing cars. Sleeping was the sole problem, and as such did not interfere with outside activities. My headaches have cleared. My neck pain has subsided and I sleep without drugs. GO FOR IT!!!!!! You have nothing to lose and everything to gain!!